High-temperature filter integrating a 0.1μm filter and heater.
Designed for use with liquefied gas in the semiconductor manufacturing process, all gas contacting parts are SUS316L, Lintec's unique low pressure loss construction.
feature
0.1µm filtration accuracy
Max200℃
All-metal clean construction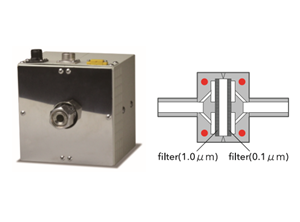 examples showing the use (of a word)
Heated filters are installed behind vaporization systems and bubbling to remove verticles and mist that can lead to product defects.