High-temperature gas heater capable of heating 250 SLM of N2 equivalent at Max 300°C in a compact design.
feature
Compact design with height 240 mm x width 101 mm x width 75 mm
Maximum flow rate 250SLM
Maximum operating temperature 300°C
300°C and 500 SLM are possible with two units in parallel
Designed to minimize the difference between the set temperature and outlet gas temperature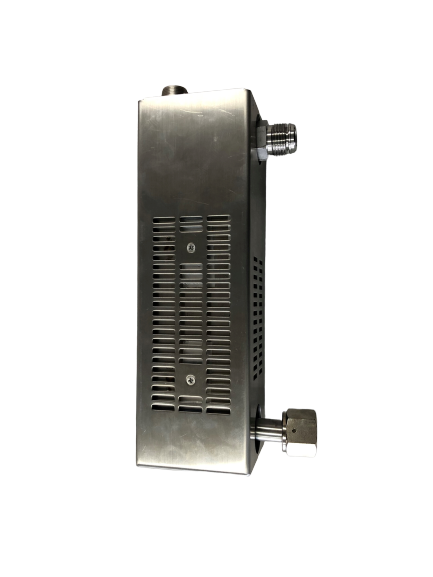 examples showing the use (of a word)
Wafer warp correction
Wafers can warp due to repeated deposition. One of the countermeasures is to correct warpage by using high-temperature, large-flow hot air, and the high-temperature gas heater (HX-0301), which can generate high-temperature, large-flow air at 300°C and 500 SLM by using two units in parallel, is ideal for correcting warpage.
specification sheet
| | | | | |
| --- | --- | --- | --- | --- |
| Flow rate (N2 conversion) | Pressure loss | Withstand pressure(G) | Max. temperature | gas supply section |
| 250SLM | 94kPa | 1MPa | 300℃ | SUS316L |
*Please contact us directly for detailed specifications of small gas heaters and small heat exchangers.